Natural Sciences and Math
Hamzah Sammour is a Peer Advisor for those studying Natural Sciences and Math. He is an Environmental Engineering & Energy Management major, a student in the Cook Honors College, an IUP Ambassador and the President of the IUP Co-op Board of Directors. All this and still had time to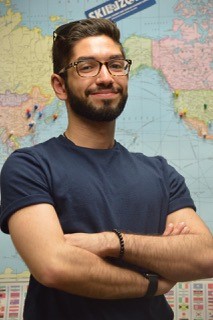 study in Italy. He's also traveled to many places around the globe. Read more about Hamzah and contact him starting August, 2019.
HOMETOWN:
Monterey, CA
EDUCATION ABROAD EXPERIENCE(S):
SAI John Cabot University in Rome
MAJOR(S)/MINOR(S):
Dual Bachelor (Environmental Engineering and Energy Management)
BEST OVERSEAS EXPERIENCE:
Istanbul, Turkey where I got to witness the marvelous architecture in the city. Also, it is a city that resides on two continents (Europe & Asia) how cool is that?
FAVORITE FOOD EATEN OVERSEAS
: Kabsah - Meat and Rice from Jordan
DREAM TRAVEL DESTINATION:
I have so many but my #1 is Sydney, Australia